Due to continuing COVID- 19 related issues, we are experiencing delays in production of our lab kits. We have let our schools know of the delays, and are working as fast as possible to fulfill your order. Thank you for your patience.
---
---
Engaging Students
Empowering Educators
eScience Labs collaborates with hundreds of higher education institutions to provide a traditional hands-on laboratory experience to students engaged in online and blended learning. 
Through a combination of hands-on science lab kits, virtual learning tools and customized digital curriculum, eScience Labs helps higher education institutions expand and strengthen science comprehension.
Why eScience Labs?
REAL-WORLD EXPERIMENTS Developed by PhDs with student safety in mind.

RIGOROUS DIGITAL CURRICULUM Virtual learning opportunities and easy LMS integration.

CUSTOMIZED LAB KITS Tailor a lab kit to your specific course curriculum.

DEPENDABLE, EXPERT SUPPORT Dedicated partners to support faculty and student success.

Want to learn more?
CONTACT US TODAY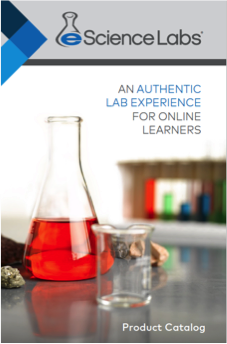 eScience Labs offers 19 science subjects and more than 700 experiments that provide remote students an opportunity to engage in real science exploration outside of a traditional laboratory environment.
Testimonials
-Richard, MN
Instructor, Math / Physics
"The students really like the kits and the labs. They say it's the best part of the course."
-Tasneem, AZ
Instructor, Cochise Community College
"If you want your students to experience science on their own, improve their abilities as independent learners, or just reach students at a distance, these kits are worth a look."